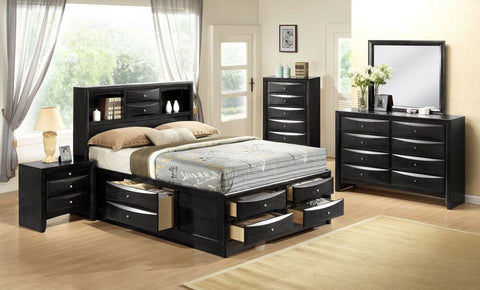 6 PCS EMILY STORAGE BLACK BEDROOM SET (V)
---
Name
Price
Qty
6PC.King (BED/N/D/M )

$1,399

$1,499
6PC.Queen (BED/N/D/M )

$1,299

$1,399
7PC.King ( BED/N/D/M/C )

$1,599

$1,699
7PC.Queen ( BED/N/D/M/C )

$1,499

$1,599
KING BED ONLY

$899

$999
QUEEN BED ONLY

$799

$899
NIGHTSTAND

$209

$299
CHEST

$295

$329
DRESSER

$369

$489
MIRROR

$99

$109
---
B4285CM
EMILY STORAGE BLACK BED SET
The Black Emily Storage Platform Bedroom set is the perfect addition to any home that is looking for a contemporary feel that makes a bold statement while not breaking the bank. Drawers featuring a sloped and angular design on the bed, nightstand, chest, dresser and mirror t really makes this set unique. Add a bit of luxury to your home by shopping and saving at VIVI FURNITURE today .
Dimensions:
Dresser: 58.5" X 17" X 40.6" H
Mirror: 39.4" X 1.3" X 34.8" H
Nightstand: 25.6" X 17" X 25.4" H
Chest: 31.6" X 17" X 48.4" H
Set includes:
Bed (Headboard Footboard Rails & Slats)
Night Stand
Dresser 
Mirror
Chest
** 6PC. Chest is not included.
** 7PC. Chest is included.
---
We Also Recommend