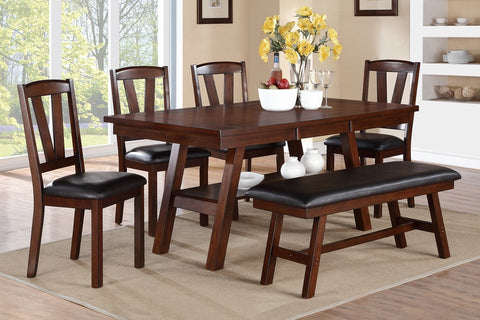 5-PCS V DESIGN DARK WALNUT FINISH DINING ROOM SET (V)
---
Name
Price
Qty
Default Title

$699

$930
---
5-PCS V DESIGN DARK WALNUT FINISH DINING ROOM SET
A strong design of bold lines and dark hues, this formal dining table set features chairs and tables of various heights and a bench covered in a dark walnut finish in solid wood birch veneer. The chair back supports have a "v" design making it a handsome piece for your home dining space.
Stock (5-7 Days)
DIMENSIONS:
DINING TABLE: 66′ x 40′ x 30′ H
DINING CHAIR: 18′ x 21′ x 39′ H
DINING BENCH: 48′ x 17′ x 19′ H
MATERIALS:
DINING TABLE: Solid Wood + Birch Veneer; Color Dark Walnut
DINING CHAIR: Solid Wood; Color: Dark Walnut
DINING BENCH: Rubber Wood + Faux Leather
5PCS Include: 1 Table and 4 Chairs.
Select option to add 2 extra chairs or 1 bench.
---
We Also Recommend